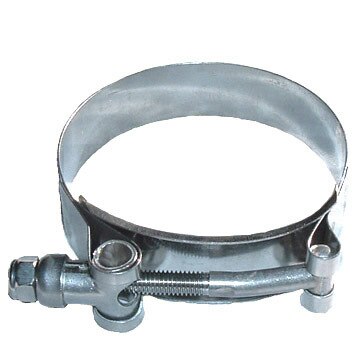 T-Bolt Clamp for 3.25" Silicone Parts
These 304 Stainless Steel T-Bolt Clamps are perfect for high pressure/high heat intake or exhaust pipe coupling.
Unlike some other t-bolt clamps available, these are not marked with any company logo. The only marking is a small, convenient number telling you the clamping ability (in MM). The measurement system we use is designed for 3 or 4-ply silicone coupling.
Actual clamping ability is 3.34" to 3.73".
These clamps are smooth on the inside and will not bite into silicone like worm gear clamps.
Clamping ability is over 20 times greater than worm gear clamps.
Bolt is easy to tighten since it is out away from the clamping surface.
Clean, shiny, and professional looking - show quality clamps.
Do not get dirty as easily as worm gear clamps, and are easier to clean.