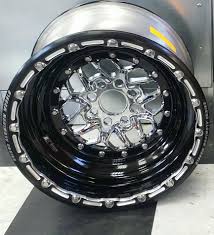 Keizer Slepen 15" Drag wheel
"Slepen" Dutch translation – drag// "the action of pulling something forcefully"
15″ Chrome "Slepen" keizer Drag wheel. Starting $500
Shown with "Billet beadlock" black shell options. Width 3.5-20″+ available.
4x100mm, 4x108mm, 4x114mm, 4x120mm & More
1/2″ increments of width, 1″increments of offset.
Available in Nonbeadlock, Spun lock & billet lock versions.
Available in Chrome Or Blackout center options.
Available in Polished or Blackout wheel barrel options.
Comes standard with grade 8 Fasteners available.
Titanium & ARP fastener upgrades available.
ANY SIZING NOT LISTED PLEASE ORDER CORRECT BEADLOCK CHOICE AND CALL-1-910-788-1717 TO LET US KNOW BOLT PATTERN NEEDED