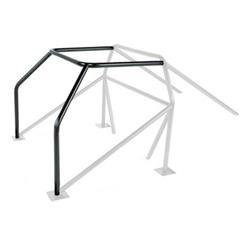 Roll Cage Conversion, Weld-On, 8 Point to 10 Point, 1-5/8 in Diameter, 0.134 in Wall, Steel, Natural, Ford Mustang 1979-93, Kit
Roll Bar Type: Drag race
Roll Bar Style: Conversion kit
Number of Mounting Points: 2-point
Tube Diameter (in): 1.625 in.
Wall Thickness (in): 0.134 in.
Welding Required: Yes
Roll Bar Material: Mild steel
Roll Bar Finish: Natural
Quantity: Sold as a kit.
Notes: Kit includes top hoop and two forward downstruts to convert a 8-point roll cage to a 10-point roll cage.
If you're going to be running 10.99 seconds or quicker in NHRA, you must have at least a 10-point roll cage. If you currently have an 8-point roll bar installed, one of Competition Engineering's 10-point roll bar conversion kits will upgrade your 8-point bar to a 10-point cage. These weld-in kits consist of a top hoop, which attaches to the front of the existing roll bar and follows the perimeter of the roof, plus two supports for the front of the top hoop. Both the top hoop and the supports are made from rugged, 1 5/8 in., 0.134 in. wall, computer mandrel-bent, mild-steel tubing. Even if you aren't required to have a 10-point cage, upgrading your existing 8-point bar will add protection, as well as chassis stiffness that can translate into better reaction times.